To test the potential of LA-ICP-MS for U-Pb dating of long-term fossilization processes, we analyzed different silica generations of petrified wood from a ~18 Ma old tuff (Fig. 1), and fossil bone from three ~150 Ma old dinosaurs (Fig. 2):
U-Pb analyses from the fossil wood revealed a protracted sequence of discrete silica minerali-zation and replacement events rather than a continuous maturation of amorphous silica towards a quartz end member (Fig. 1).
U-Pb analyses from dinosaur bone apatite did not return any information on their deposition age (Fig. 2c,d). However, the alignment of the U-Pb data from two samples along distinct mixing lines indicates that either the U minerali-zation occurred around 80 respectively 90 Ma or the U-Pb systems were reset at these times.
Notably, in both fossil tissues certain domains or distinct diagenetic infillings (calcite) were identi-fied that yielded an age very close to the expected deposition age (Fig. 1e; Fig. 2d). It follows that meaningful U-Pb age information about the timing of distinct fossilization processes may be preserved in fossil bone and wood.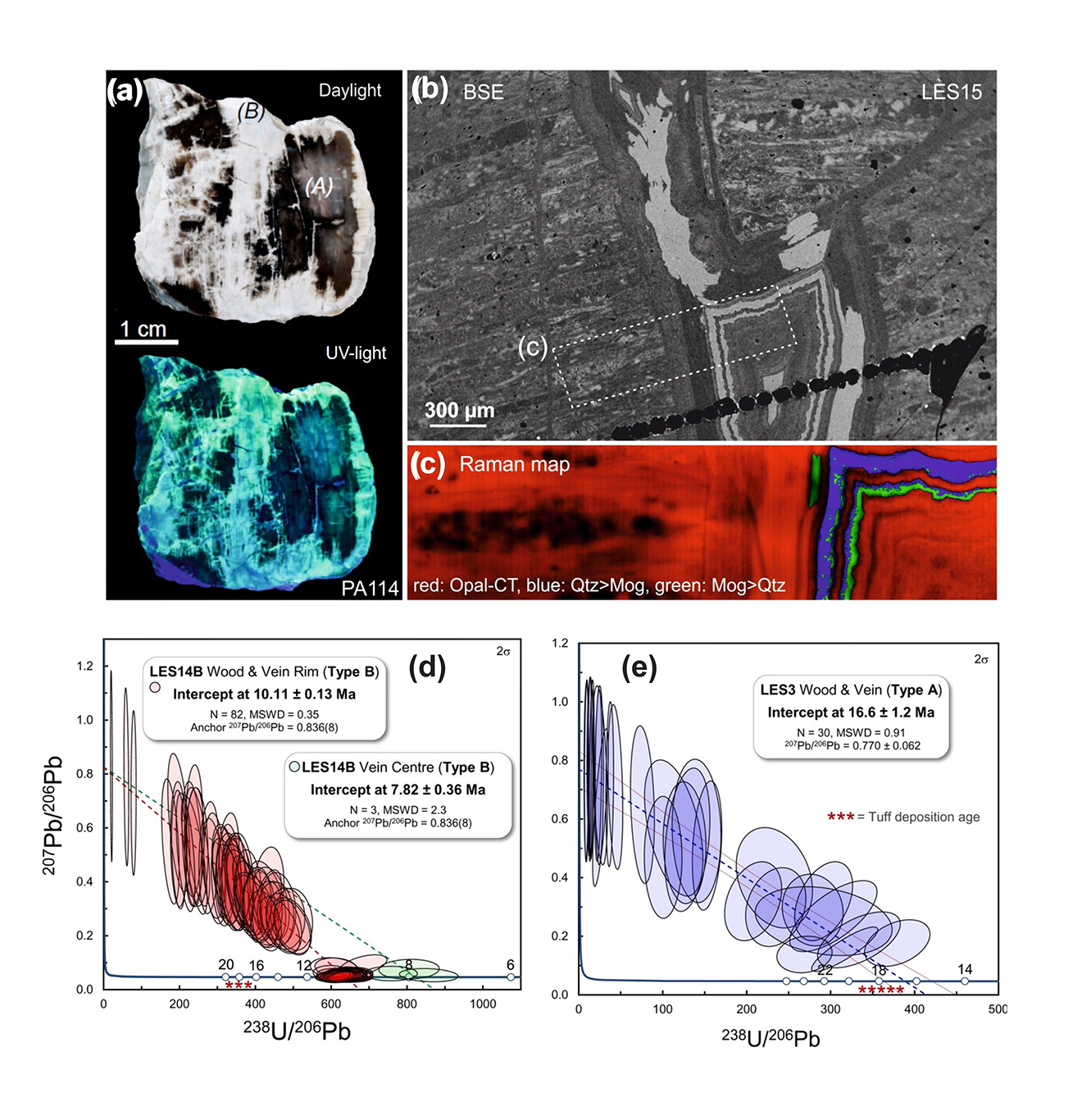 Figure 1 | (Examples and LA-ICP-MS U-Pb isotopic data for silicified wood from Lesvos. (a) Polished specimen under day- and UV-light. Green fluorescence identifies areas with elevated U-content. Many domains (type B) were affected by late stage, uraniferous fluid infiltration, whereas a few domains (type A) have escaped this event. (b) Back-scattered electron image of cross-cutting veins in silicified wood (type B) and (c) Raman phase distribution map, documenting a succession of wood opal matrix, vein filling opal-CT generations, and partially replacement by chalcedony. (d) Tera-Wasserburg concordia diagram with regressions of intercept ages for distinct silica generations (type A). (e) The concordia diagram for one silica sample with low U contents (type B) yields an intercept age close to the published deposition age of the tuff ( ~18 Ma [6]), which is accepted as the chronostratigraphic age of the fossil forest.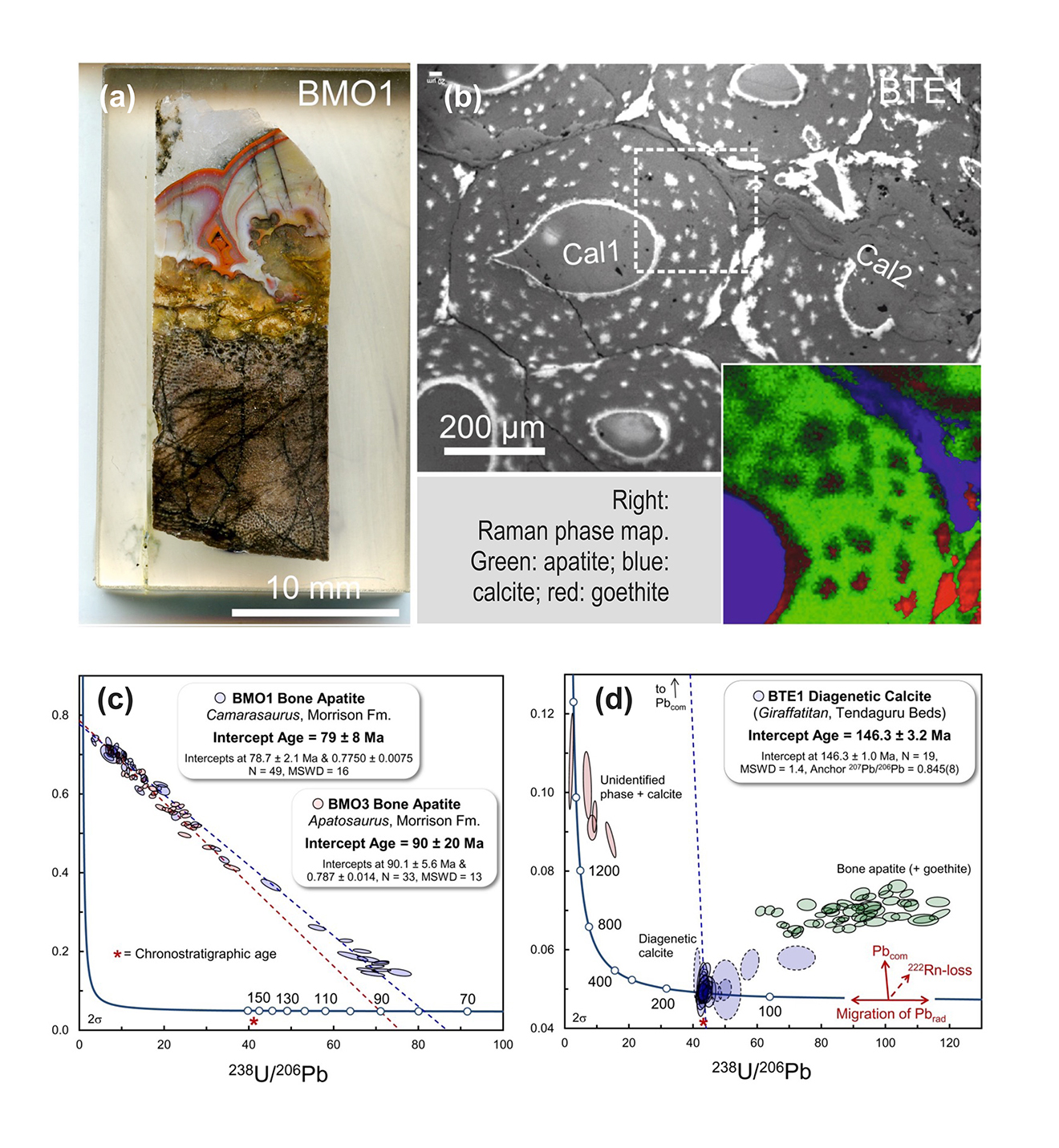 Figure 2 | Examples of fossil bone material and results from LA-ICP-MS U-Pb analyses. (a) Half section of a histological drill core (BM01, Camarasaurus, Morrison Formation) with a massive band of agate. (b) Reflected light image of a polished slab of a sauropod bone (BTE1, Giraffatitan, Tendaguru Beds). Inset gives a Raman phase distribution map for the marked area. Note the high amount of goethite inclusions, and texturally distinct calcite populations. (c) Tera-Wasserburg concordia diagram for bone apatite samples from the Morrison Formation. Intercept ages at about 80 and 90 Ma imply a closed system behavior for most parts of the specimen. (d) Concordia diagram for the BTE1 sample. Arrows indicate displacement vectors for major mechanisms of U-Pb disturbance. The main population of near concordant calcite analyses defines an intercept age of 146 ± 3 Ma, which is consistent with the chronostratigraphic age (~150 Ma).